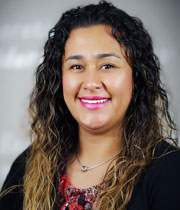 You may not find Angie on your work site driving nails, but she's a powerful contributor to the success of every Allstar project. See, Angie doesn't just work at Allstar, she is an all-star. Angie joined Allstar Construction in February of 2018. In her two years here, she has served the Allstar team in many ways. As Safety Director, she helps our employees and subcontractors stay safe on the job. She leads efforts to identify hazards and brainstorm effective ways to mitigate those hazards. She is a key planner for the all-company annual safety meeting as well.
Living the Allstar value of "continuous innovation," she worked with a key builder client to develop a safety checklist for subcontractors to use. They will send it in along with their invoices in order to get paid, reinforcing adherence to safety procedures.
Angie also recruits new subcontractor crews and fosters good relationships to retain them. She advocates on their behalf and ensures compliance with insurance and other requirements. Her Spanish language and cultural fluency are valuable when it comes to building trust with many crews.
Angie grew up in southern California and moved here in 1991. Her first day in the state was on the famous Halloween blizzard. Welcome to Minnesota!
When she was little, Angie wanted to grow up to be a cashier. That may have influenced her choice to go to school for accounting and develop excellent 10-key skills. One job she had before coming to Allstar was as a telemarketer for a Kirby-authorized dealer, setting appointments for vacuum cleaner salesmen.
When she's not at Allstar, you might find Angie and her husband fixing up the house, volunteering, or hanging with their daughter and rescued black lab mix.
Her favorite place to travel is anywhere there's a warm beach and sunshine. Her favorite sports team is the Vikings, she likes (and sings) all kinds of music and enjoys all kinds of foods. "I'm not afraid to try new things," she said. Which is one reason she's so successful at Allstar. Her contributions to the company don't stop with her formal titles. She'll pitch in wherever needed, whether that's researching payment discrepancies, ordering materials for will call, running errands, tying hundreds of bows for holiday gifts or helping manage projects.
"I enjoy a challenge and I excel under pressure," she said. When Angie agrees to do something to help out, you know it will get done. She's results driven and reliable. And she is honored to be recognized as one of the 2020 inaugural Allstar All-Stars.