Metal roofing has proven its value in America for hundreds of years. Thomas Jefferson installed a standing-seam tin roof on his Monticello estate in the late 1700s. Copper roofs are common on historic churches, and you'll see galvanized iron roofs on old post offices, train sheds and factories.
Fast forward to modern times, where the advantages of metal roofing are still relevant and the look has evolved to include many styles, including shakes, slate, corrugated steel panels and standing seam metal roofs.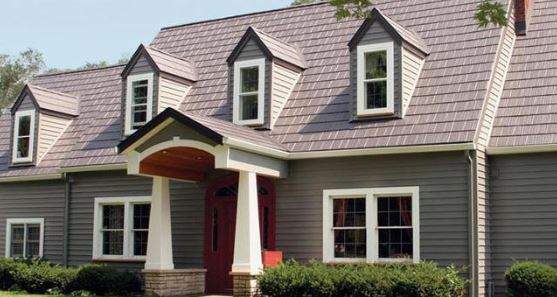 Steel is the fastest growing material in roofing today. It provides innovative charm and everlasting protection for home and business owners alike. In this article, we'll discuss metal shake and metal slate shingles. In our next article, we'll cover corrugated and standing seam metal roofs.
Advantages
Engineered to have the look of traditional shakes and slate, these metal roofing materials offer several advantages. Advantages of steel shakes and slate include:
Colors choices – a wide variety of solid and enhanced colors
Great investment – get the look of natural slate for a fraction of the weight and cost.
Lightweight – in comparison to natural stone slate; steel eliminates the need to reinforce a roof deck.
Cool roof technology – PVDF finish reflects sunlight and absorbs less heat than typical roofing material.
Resistant to mold and mildew – PVDF finish includes a non-nutrient for fungal growth.
Impact resistance – UL Class 4 Impact Rating, the highest impact rating available.
Wind resistance – tested to resist wind speeds up to 160 mph.
Durability – will not chip, crack, fade or peel.
Non-combustible – most steel roofing assemblies achieve Class A fire rating, the highest in the industry.
Environmentally friendly – steel roofing is 100 percent recyclable!
Check back next week to learn about standing seam and corrugated metal panel roof options.
For more information about metal roofing products for your home or business, please contact the professionals at Allstar Construction. We are your leading providers of trustworthy and reliable roof repair, replacement and restoration services. Call 763.479.8700 or fill out our online contact form and get a free quote today.