James Hardie Fiber Cement Siding
The first thing people see when they view your exterior is your siding. The right siding can beautify a property, increase its curb appeal, and boost its lifespan and energy efficiency. You get all that and more with James Hardie fiber cement siding.
James Hardie is a recognized leader in fiber cement siding and has been beautifying homes and businesses for decades. When it comes to installing and repairing exterior siding, Allstar Construction is proud to use James Hardie products on homes, HOAs, offices, and commercial buildings throughout the Twin Cities area.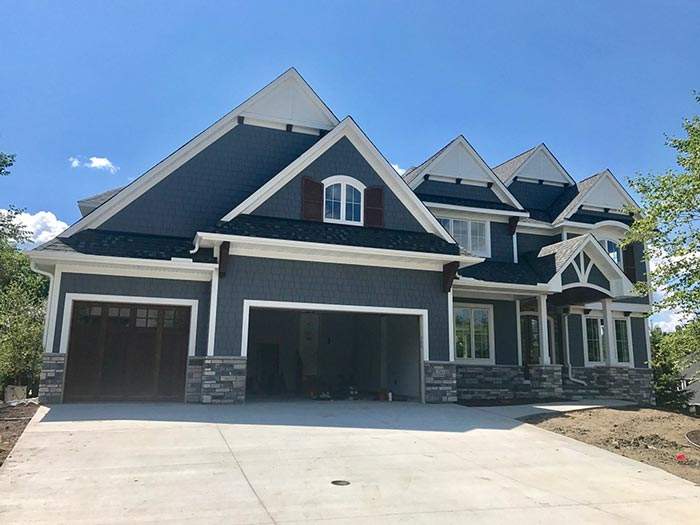 Professional installation of quality siding is important to our siding contractors, which is why we trust the beauty and durability of James Hardie Siding, manufacturer of the world's highest-performance fiber cement siding, backer board, trim and more. No matter what style your home, building or complex is, James Hardie fiber cement siding can complement it. Additionally, James Hardie products are manufactured specifically for our harsh Minnesota climate and withstand the elements very well!
Benefits of James Hardie Siding
There are many reasons why our experienced contractors trust James Hardie fiber cement siding, thanks to its:
Superior durability
Colors that last (thanks to baked-on ColorPlus® Technology that resists fading, chipping and cracking)
Low maintenance
Long life span (up to 30 years or more)
Moisture and rot resistance
Fire protection
Pest and weather resistance (woodpeckers hate James Hardie siding)
In the end, fiber cement siding by James Hardie is a simple yet beautiful way to update and enhance your home or other property.
James Hardie Choices
James Hardie is nothing if not diverse. This trusted company offers a variety of siding types and collections, including:
Architectural Collection
Plank Lap Siding
Shingle Siding
Panel Vertical Siding
Trim Boards
Soffit Pre-Cut Panels
Weather Barrier
Backer Board
At Allstar Construction, we only use the finest siding products from top manufacturers like James Hardie. You will get assurances that your fiber cement siding remains beautiful and functional for many years to come. As one of the most experienced Minnesota siding contractors, we always stand by our quality workmanship!
Call Today for a Free Estimate on James Hardie Siding
To inquire about James Hardie fiber cement siding and our installation services, contact Allstar Construction today at (763) 479-8700 or fill out our online form to schedule a FREE estimate.