The mission of Allstar Construction – The Metal Shop is to be Minnesota's most referred and trusted contractor for fabricated metal products.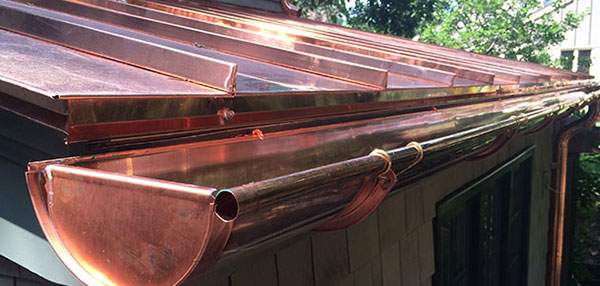 The Metal Shop was built on decades of experience in the industry. Our team of expert metal craftsmen and installers work with the latest equipment and materials. We have been creating and installing custom roofing products for years. No project is too complicated!
Our estimators, designers, and installers have years of experience, not just in working metal, but in all areas of construction. We will take the time to understand your entire project to ensure the product looks great and will perform for years. We can handle everything from copper gutters to metal roofing, wall panels, or ceiling tiles. Whether you are needing product for a large commercial project or you're a homeowner looking to add metal accents to your home, our service is second to none.
Beginning to end, large to small, The Metal Shop's custom creations will make your home shine!
Materials We Currently Stock
Copper – 16oz., 20 oz, lead-coated
Galvanized – 24g, 26g
Pre-finished Steel – 24g, 26g
Coreten – 24g, flat stock, corregated
Stainless Steel – 24g
Bonderized – 24g
Aluminum – 032, 040
Galvalume – 24g, 26g
Please keep in mind, our shop can bend any material up to 18 gauge. And, of course any custom material types can be ordered. The small delay in delivery for custom orders can be discussed at the time of order.
Color Collections
Every computer/tablet/phone is capable of displaying colors inaccurately or with minor inconsistencies. Please request a sample of a new finish before finalizing your order.
* – Metallic finishes are more expensive
UNA-CLAD COLORS
Stone White SR
Sky Blue
Teal
Regal Red SR
Bone White SR
Regal Blue
Hemlock Green
Brandywine SR
Almond SR
Electric Blue
Tropical Patina SR
Colonial Red
Sandstone SR
Award Blue
Patina Green SR
Terra Cotta SR
Slate Gray
Extra Dark Bronze
Dark Ivy SR
Silver Metallic SR
Cityscape SR
Dark Bronze
Sherwood Green
Classic Copper SR
Charcoal Gray
Medium Bronze
Hartford Green
Champagne Metallic*
Sierra Tan SR
Matte Black
Mansard Brown
Gutter Coil – Rollex
| | | | | | |
| --- | --- | --- | --- | --- | --- |
| | | | | | |
| Acorn | Almond | Barn Red | Black | Blue Granite | Brandywine |
| | | | | | |
| Bright White | Bronze | Brown (deep) | Canvas | Camel | Clay |
| | | | | | |
| Cobblestone | Cornsilk | Cottage White | Evening Grey | Evergreen | Fieldstone |
| | | | | | |
| Forest Green | Heather | Mocha | Musket (brown) | Norwegian Wood | Pacific Blue |
| | | | | | |
| Sage | Sandcastle | Sea Breeze | Shell | Snowmist | Stone |
| | | | | | |
| Summer Suede | Sungold | | | | |
Gutter Coil – Edco
| | | | | | |
| --- | --- | --- | --- | --- | --- |
| | | | | | |
| Polar White | Almond Cream | Royal Brown | Adobe Cream | Autumn Beige | Hartford Green |
| | | | | | |
| Classic Blue | T-Tone | Claytone | Heritage Grey | Sandstone | Glacier White |
| | | | | | |
| Antique Parchment | Statuary Bronze | Pewter | Wickertone | Desert Tone | |
Gutter Coil – Alside
White (High Gloss)
White (Low Gloss)
Antique Parchment
Natural Linen
Platinum Grey
Coastal Sage
Cape Cod Grey
Adobe Cream
Colonial Ivory
Maple
Monterey Sand
Vintage Wicker
Tuscan Clay
Heather
Teakwood
Terratone Bronze
Bronze
London Brown
Musket Brown
Royal Brown
Grecian Green
Black