After your roof, your home's siding is the most important contributor to curb appeal and structural protection.
Some things to consider when selecting siding for your home are the ease (or difficulty) of maintenance, how well it insulates your house and what style and color options are available.
Categories of siding material include brick, stone, stucco, wood, engineered wood, fiber cement, vinyl, aluminum and steel. Unless your selection criteria are limited by association rules, you have a lot of siding options to choose from!
In this article, we'll investigate the pros and cons of steel siding.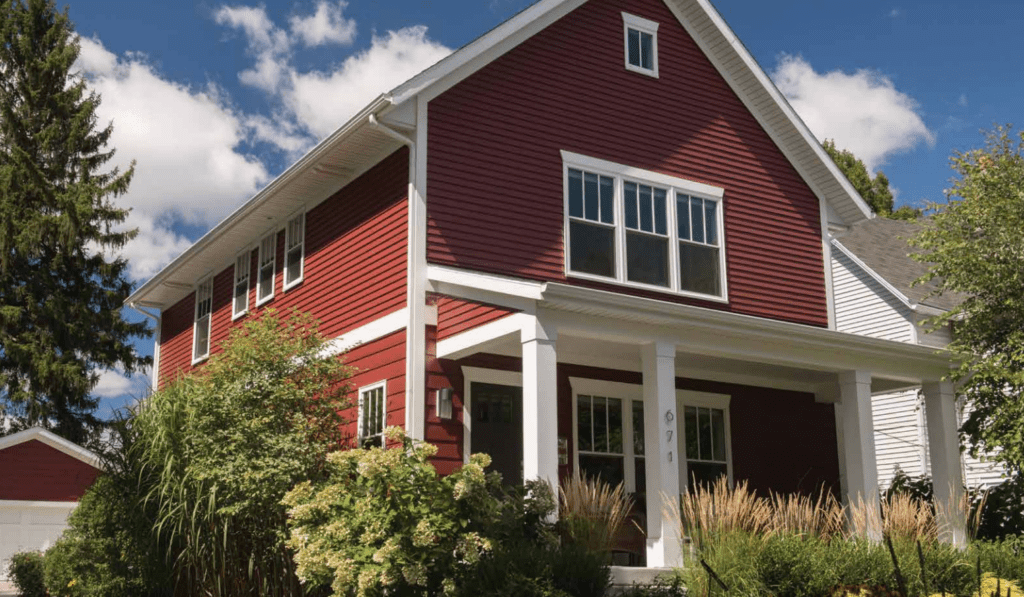 PROS
Low Maintenance
Steel siding requires very little attention once it is properly installed. It holds up especially well in northern climates where we have severe winters. Snow, sleet, frost, rain and wind have very little effect on metal. Metal also does not absorb moisture or promote the growth of mold or fungus, both of which can destroy a home's framing and can make people sick. Insects don't like steel siding, either, eliminating problems of infestation and damage from birds looking for a food source.
Damage Resistant
Steel siding, by virtue of the material's thickness and strength, resists damage from most hail, flying debris and other impacts.
Fire Resistant
Metal-clad buildings are almost impervious to fire. If you live in in a high fire risk area or an area prone to frequent lightning storms, you should definitely consider metal siding (and roofing). In addition to greater peace of mind, you might get a discount on your homeowner insurance with steel siding.
Looks Great
Metal siding design has come a long way in recent years. Manufacturers now offer patterns and textures that realistically mimic wood (if that's the look you're going for). Standing seam siding and corrugated panels offer a clean, modern look. Pre-painted metal in a wide range of colors can deliver twenty years or more of carefree living.
Environmentally Responsible
For homeowners who want to go green, steel is a great choice because it is recyclable.
Of course, it's not all unicorns and rainbows. Steel siding has some possible disadvantages.
CONS
Not Bulletproof
Although it is resistant to impact, even the most heavy-duty siding will dent if it's struck hard enough. Like your car, it can be scratched by sharp objects.
Rust
Steel generally holds its color well. Steel siding does not turn chalky over time like aluminum can or fade and peel like painted wood siding can. However, after exposure to the elements, damaged steel siding may rust. In our part of the country we don't have to worry about salt spray, but if you live in an area with frequent fogs or other dampness, keep this in mind.
Cost
Steel siding is more expensive than many other types of siding. Because it's heavier than other types of siding, it can cost more and take longer to install. However, these up-front costs can be balanced by the longer life expectancy of steel siding over most other types of siding.
Insulation
Metal does not insulate as well as other types of siding and therefore can let more outside temperature and noises in; these issues can be fixed by adding insulating material under the siding.
Steel is one of the many options siding professionals have to offer. Every type of siding has its advantages and its disadvantages, which you can weigh to make your home exterior design decisions. Turn to Allstar Construction for your home improvement needs. We are your number one provider of siding installation services and storm damage repair. Give us a call at (763) 479-8700 or fill out our online contact form to request a free estimate.