The look of a brand-new cedar roof can't be beat. The color is warm and inviting, and the material is one of the most durable options you can get.
Over the years, cedar will naturally weather to a silver-grey color. If you don't love the weathered look, you may be tempted to paint your shakes – but before you do, realize you can clean them to largely restore their original look.
Cedar shingles and shakes can last decades with very little maintenance. To ensure the longevity of your cedar roofing and siding, it should be cleaned every five to seven years. An effective cleaning will not only restore that warm color, it will increase the overall life expectancy of your roof and siding.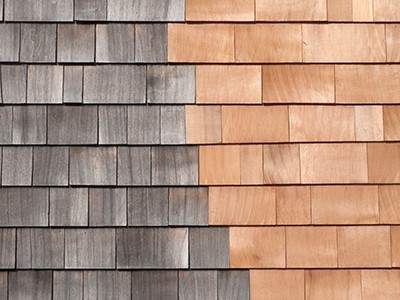 Prevent
Moss growing on the roof, leaves and other debris collecting on the roof will trap moisture and encourage decay, thereby decreasing the life expectancy of the roof. Remove overhanging branches that encroach on the roof and can deposit organic matter on the roof. Keep your roof clear of leaves, twigs, pine needles, etc.
Be Safe
Always be safe! It may be difficult and unsafe for you to climb onto and walk on your roof. Also, as shakes and shingles age, they may become brittle. Walking on the roof can cause extensive cracking of aged shakes or shingles and may lead to leaks.
Hire Professionals
For the above listed reasons, we strongly recommend hiring a roofing contractor that has experience in maintaining wood roofs. An experienced contractor should have the proper ladders, scaffolds, safety equipment and footwear, and will know where to walk to minimize damage. On the other hand, an inexperienced roofing company might not have knowledge or the equipment to do the job right and cause further damage to your roof.
Clean
The Cedar Bureau recommends using a solution no stronger than one-part bleach to three parts water. Apply it with a pump sprayer and let it sit for about 15 minutes before rinsing it off with a garden hose. Be sure to keep the hose pointed downward to avoid forcing water up behind the shingles. This should remove mildew and algae and reveal that buff tan color. You can scrub off any persistent dirt or grit with a nylon bristle brush.
Non-professionals should not pressure wash shingles. High pressure can remove wood fibers and drastically shorten the life of the shingles. Applied incorrectly, it can also force water into the places behind the shingles, which could lead to rot and mold.
If power-washing of shakes and shingles is deemed necessary, it should be done only by contractors having experience cleaning cedar.
In fair weather, it normally takes 2-4 days for shingles to dry out. From here, you can let the wood age naturally again until your next cleaning in another five to seven years.
Optional – Stain
If you want, after the shakes or shingles are dry, you can apply an oil-based semitransparent stain that is approved by the cedar shake or shingle manufacturer. The temperature during application and for 24 hours following application should be above 40–50° F (see the stain product label for specific instructions). Staining is not necessary, but it can help preserve the color of your shingles longer.
Whether or not you choose to apply stain really depends on how you want your shingles to look. Stain will need to be reapplied periodically.
Repeat
Expect to have your cedar shingles and shakes cleaned every five to seven years to extend the life of your roof or siding and keep it looking fabulous.
Cleaning cedar shingles and shakes is not for everyone because getting up on a roof or ladder can be a dangerous task. Call the pros at Allstar to handle the cleaning, repair or replacement of your beautiful roof. Call 763.479.8700 or fill out our online contact form to schedule your complimentary inspection and be the first on our busy Spring schedule!